The Teacher Portfolio & Preparation Series (TiPPS) is designed to help future language educators (specifically graduate students in language departments at U.S. universities) prepare for the job market they will face upon graduation. The 7-part in-person TiPPS workshop, established in 2000 and offered at the University of Hawai'i at Mānoa through 2019, has now been converted into an 8-module self-study online course.
The 19 free TED-Ed lessons focus on helping participants develop a teacher portfolio (statement of teaching philosophy, documentation of their teaching) and prepare for their job hunt (tips for conducting job searches, tailoring curriculum vitae, writing effective cover letters, and preparing for interviews).
Below, the lessons are collected in one place for easy access. However, please visit the new TiPPS website for full information, resources, and criteria for obtaining the optional TiPPS digital badge.
MODULE 1: TEACHER PORTFOLIOS
TiPPS Module 1, Lesson 0: Intro to TiPPS
Content by Jim Yoshioka
Presented by Jim Yoshioka
TiPPS Module 1, Lesson 1: Putting Together a Teacher Portfolio
Content by Kenton Harsch
Presented by Jim Yoshioka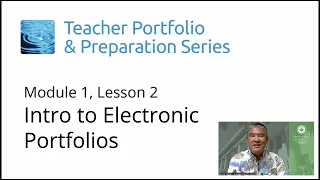 TiPPS Module 1, Lesson 2: Intro to Electronic Portfolios
Content by Kenton Harsch
Presented by Jim Yoshioka
MODULE 2: JOB SEARCHES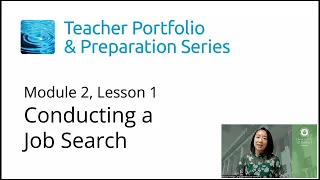 TiPPS Module 2, Lesson 1: Conducting a Job Search
Content by Emily Lee
Presented by Emily Lee
TiPPS Module 2, Lesson 2: Conducting an Information Search
Content by Emily Lee
Presented by Emily Lee
MODULE 3: PHILOSOPHY OF TEACHING STATEMENTS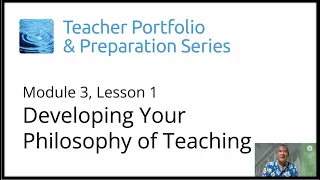 TiPPS Module 3, Lesson 1: Developing Your Philosophy of Teaching
Content by Kenton Harsch
Presented by Jim Yoshioka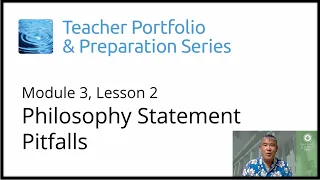 TiPPS Module 3, Lesson 2: Philosophy Statement Pitfalls
Content by Kenton Harsch
Presented by Jim Yoshioka
MODULE 4: CURRICULUM VITAE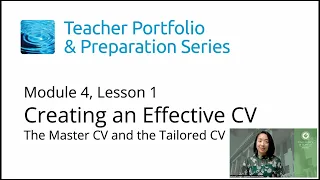 TiPPS Module 4, Lesson 1: Creating an Effective CV
Content by Emily Lee
Presented by Emily Lee
TiPPS Module 4, Lesson 2: CV Pitfalls
Content by Emily Lee
Presented by Emily Lee
MODULE 5: COVER LETTERS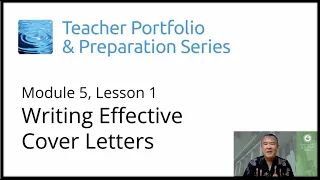 TiPPS Module 5, Lesson 1: Writing Effective Cover Letters
Content by Jim Yoshioka
Presented by Jim Yoshioka
TiPPS Module 5, Lesson 2: Cover Letters Pitfalls
Content by Jim Yoshioka
Presented by Jim Yoshioka
MODULE 6: ARTIFACTS
TiPPS Module 6, Lesson 1: Documenting Your Teaching with Artifacts
Content by Jim Yoshioka
Presented by Jim Yoshioka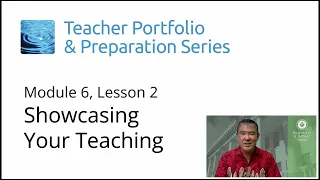 TiPPS Module 6, Lesson 2: Showcasing Your Teaching
Content by Jim Yoshioka
Presented by Jim Yoshioka
MODULE 7: INTERVIEWS
TiPPS Module 7, Lesson 1: Preparing for Your Interview
Content by Jim Yoshioka
Presented by Jim Yoshioka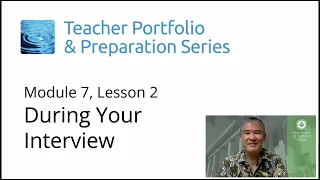 TiPPS Module 7, Lesson 2: During the Interview
Content by Jim Yoshioka
Presented by Jim Yoshioka
TiPPS Module 7, Lesson 3: Video Interview Tips
Content by Emily Lee
Presented by Emily Lee
MODULE 8: PUTTING IT ALL TOGETHER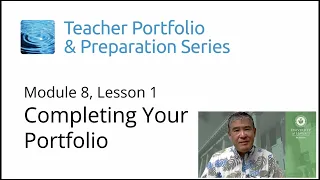 TiPPS Module 8, Lesson 1: Completing Your Portfolio
Content by Jim Yoshioka
Presented by Jim Yoshioka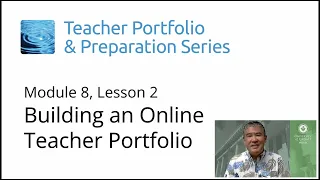 TiPPS Module 8, Lesson 2: Building an Online Teacher Portfolio
Content by Jim Yoshioka
Presented by Jim Yoshioka
TiPPS Module 8, Lesson 3: Earning Your Digital Badge
Content by Jim Yoshioka
Presented by Jim Yoshioka