March 31, 2021 (Wednesday) from 8:45am to 12:00pm
The event will include opportunities to hear about multilingual career opportunities; workshops on building a resume that features your multilingual skills and on demonstrating your language proficiency in a job interview; and a virtual Multilingual Career Fair. Registration for the event is through your high school.
*STUDENTS: Review the materials below so that you are well prepared for the event.
We are also holding a PSA video contest. The contest is separate from this event. The winning videos will be announced and shown at the event. All Class of 2021 candidates for the Hawai'i State Seal of Biliteracy are eligible to participate. For more information click here.
Pre-event Checklist
Read over the Guidelines for Participation in the Multilingual Career Development Day.
Complete the draft of your resume for the Resume Writing Workshop and upload it to your Roadmap Google Folder no later than Friday, March 26th. The Roadmap will provide a link for each student after your teacher or school representative completes the registration process.
Review the interview questions for the Interview Workshop, prepare notes for your responses, and submit any questions you have on a Google Doc uploaded to your Roadmap Google Folder no later than Friday, March 26th.
Review the list of employers below and complete the ranked preference sheet to indicate the employers and organizations you would like to speak with during the Multilingual Career Fair (10:40am-11:40am). The preference sheet will be open between Friday, March 19 and Thursday, March 25th.
Complete the pre-event survey. You can access the survey below.
---
Guidelines for Participation
Be an active participant – During the event you should be actively engaged and participating. For the interview session, you are especially encouraged to communicate in your additional language. We understand that everyone has different language abilities, but we encourage you to utilize your language skills and practice without fear. We designed this day to be experiential and to help you understand how you can use your language skills in your future career. Please participate fully and make the best use of this unique opportunity.
Use of chat and visual cues – Call from a quiet place and use a headset if you anticipate background noise. Use "gallery view," which will allow you to see everyone at once. You may use chat to ask questions during interactive sessions. You may also physically raise your hand when you wish to speak so that we can call on you. Mute yourself when you are not speaking to reduce the background noise on the call. Keep your video on at all times. Choose "hide self-view" if you'd prefer not to see yourself on your own screen. Use a virtual background if you are concerned about the privacy of your surroundings (or if you want to use a fun image, but please make sure it is in good taste).
Dress Code – This is a professional development event where you will be meeting potential employers and other professionals and we ask that you dress accordingly. A neat and professional appearance is expected.
Breaks – We have scheduled several breaks to ensure that you have time to transition between activities. You are encouraged to consume snacks and drinks, and/or use the restroom, during these breaks.
On-screen appearance – No drinking and eating on-screen — please use breaks. No use of cell phones and other devices.
---
Interview Questions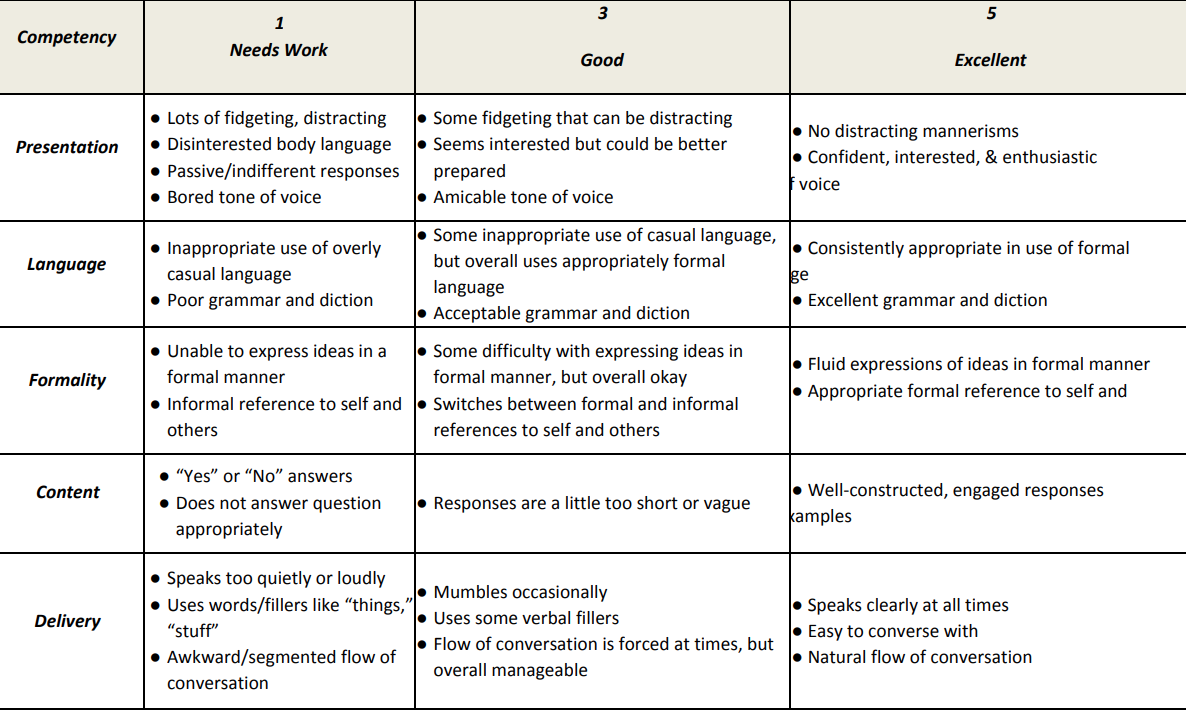 Chinese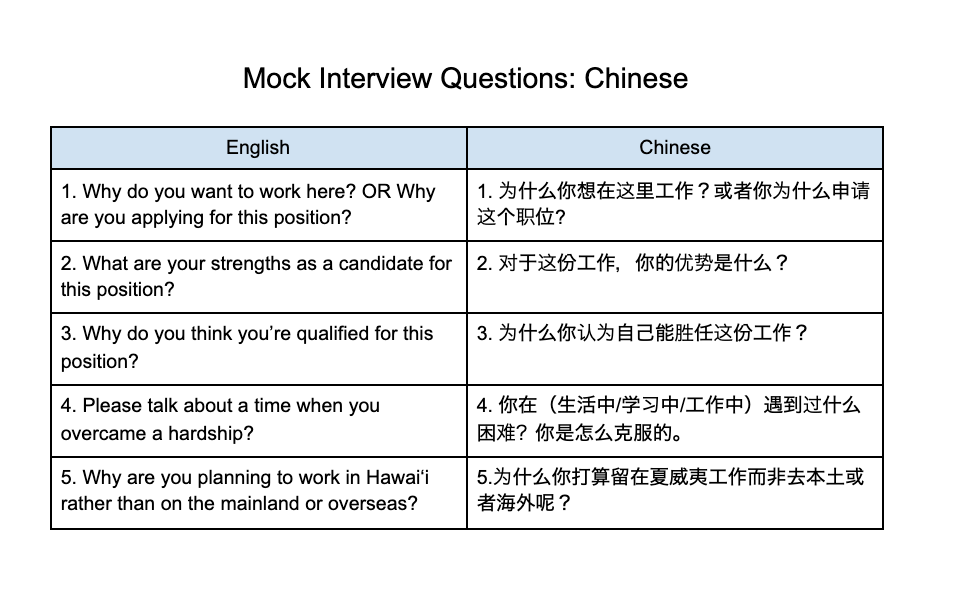 Chuukese
Ilokano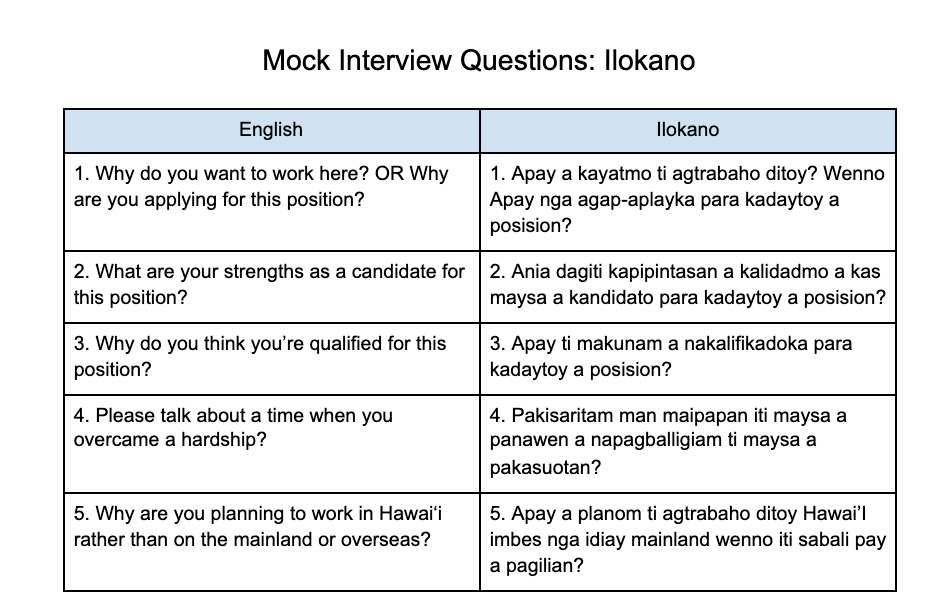 Japanese
Spanish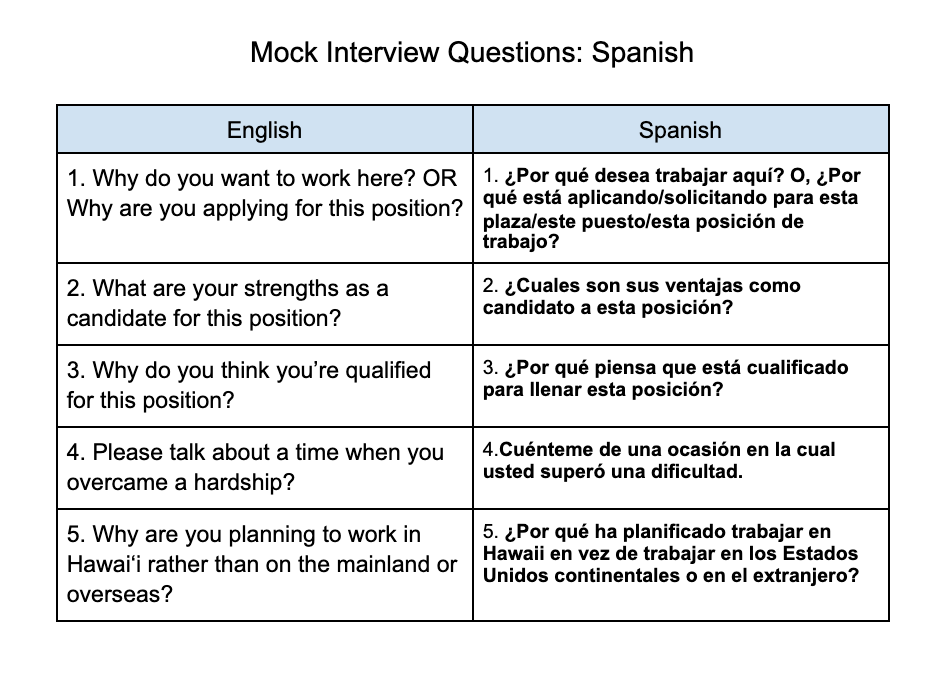 Tagalog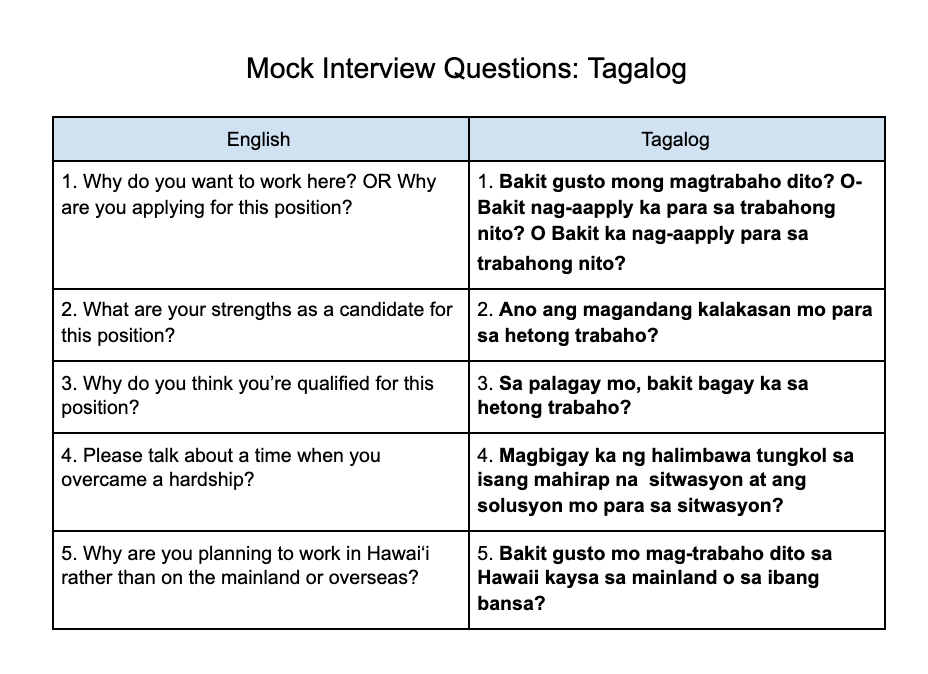 French
Korean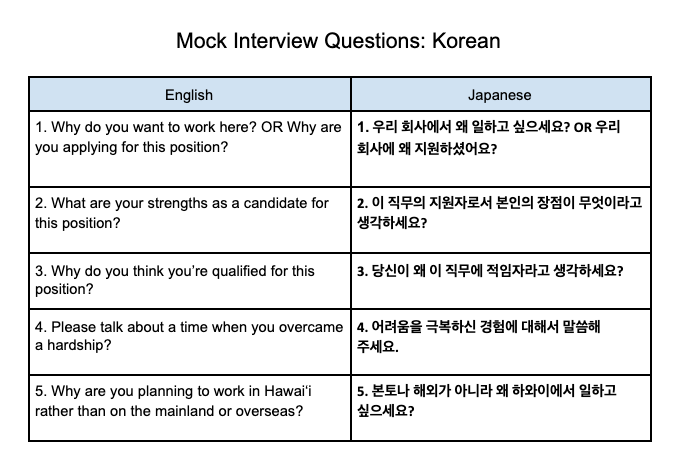 ---
Resume Sample and Guide
What is a Resume?
Your resume is the most important document you will submit in your job application. A strong resume can help you stand out from the crowd. Make sure your resume is the best it can be as it is your first opportunity to present yourself to a potential employer.
Below is a sample of a resume to gain an idea of how a resume looks like. There are also many other Resume Template guides online. Keep in mind that the average employer looks at a resume for less than 10 seconds, so focus on clear headers and effective information presentation. Fancy fonts, colors and creative designs generally distract rather than enhance the effectiveness of your resume.
Recommended Resources: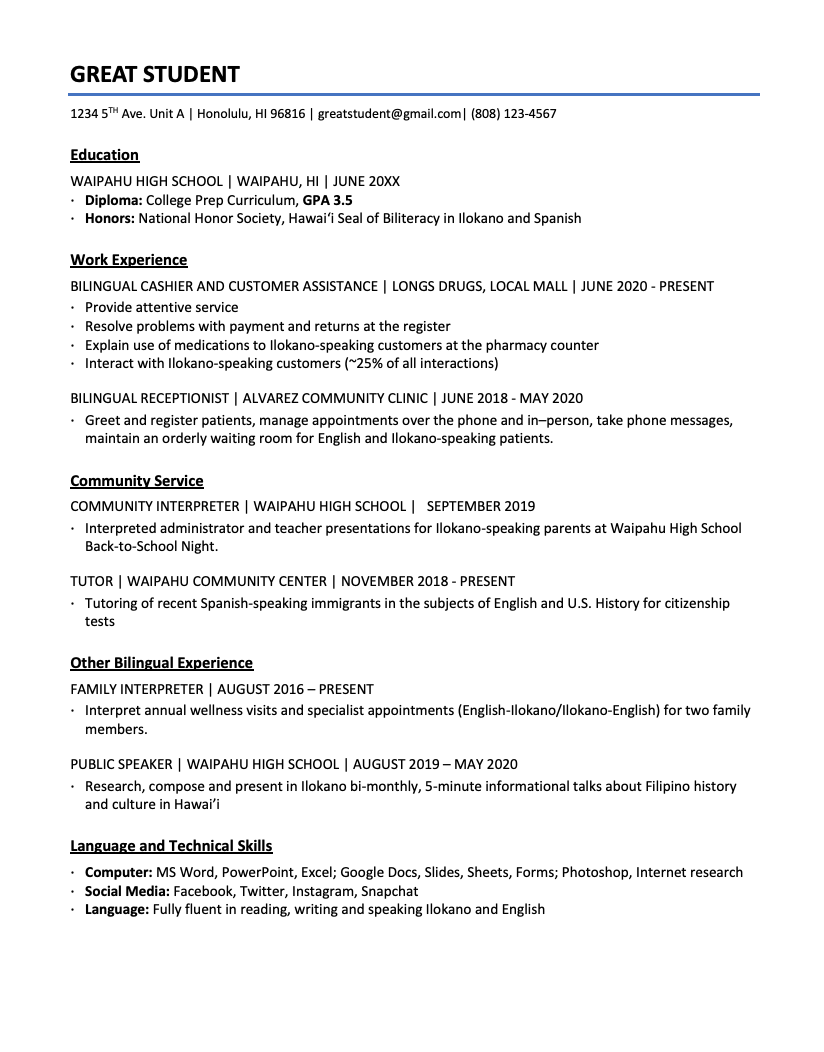 ---
Multilingual Career Fair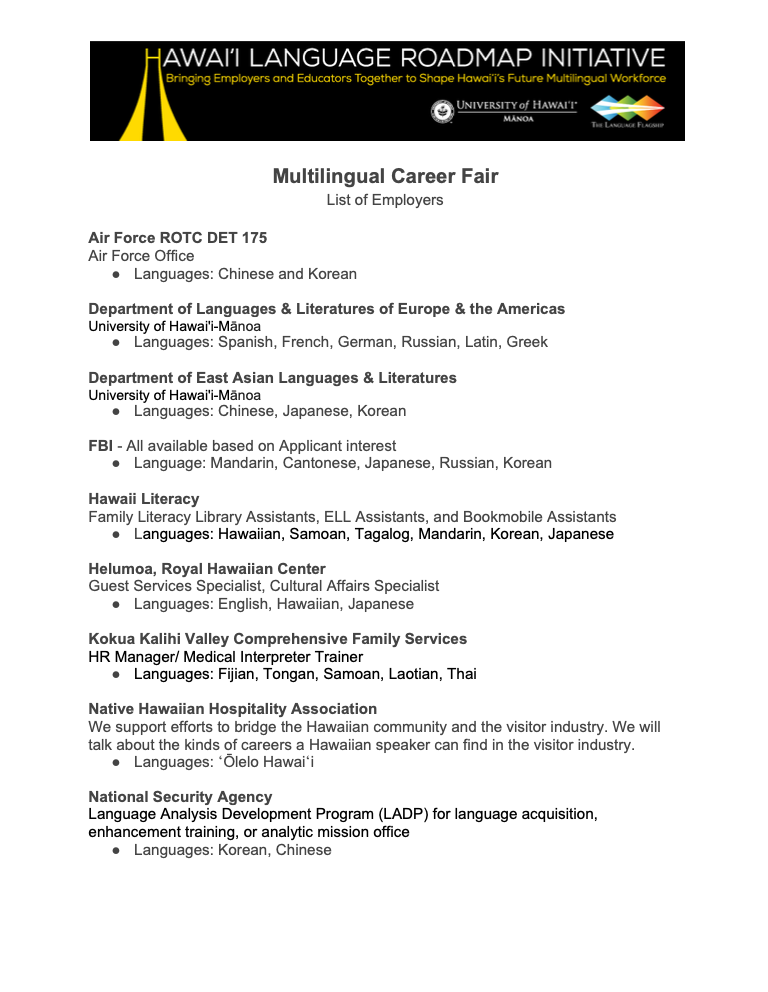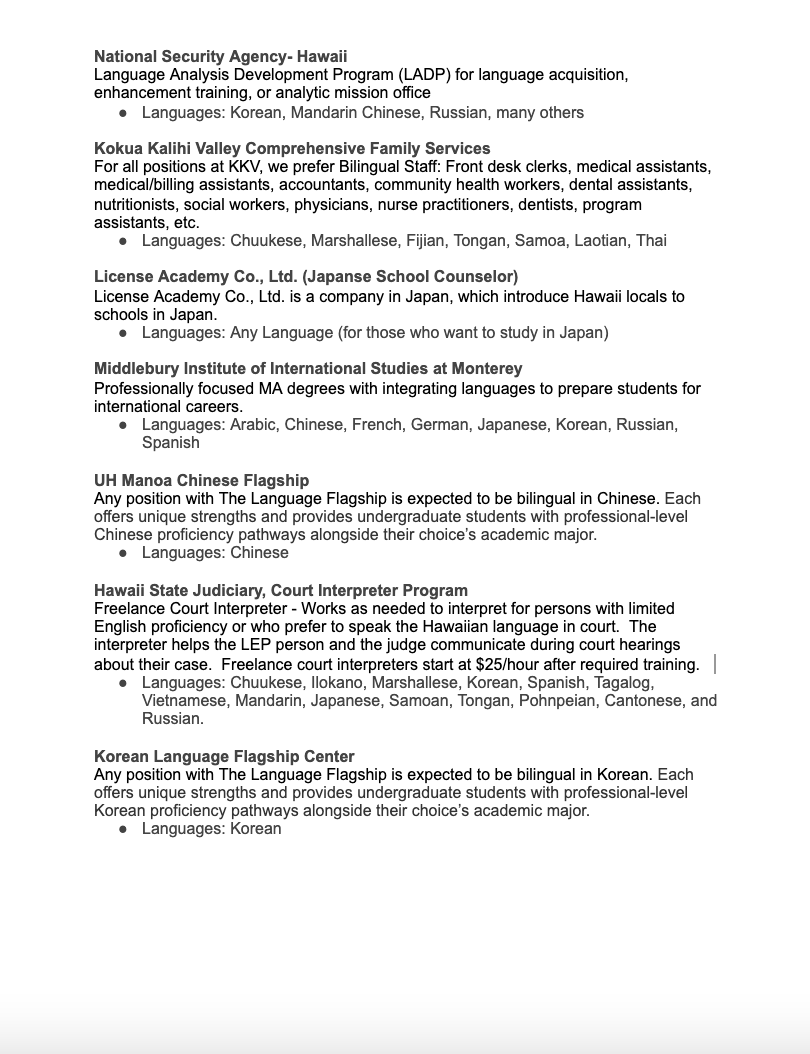 ---
4th Annual Multilingual Career Day Fliers
*TEACHERS, SPECIALISTS, and ADMINISTRATORS: Please use one or both of these flyers (downloadable pdfs) to share information about the event with your students.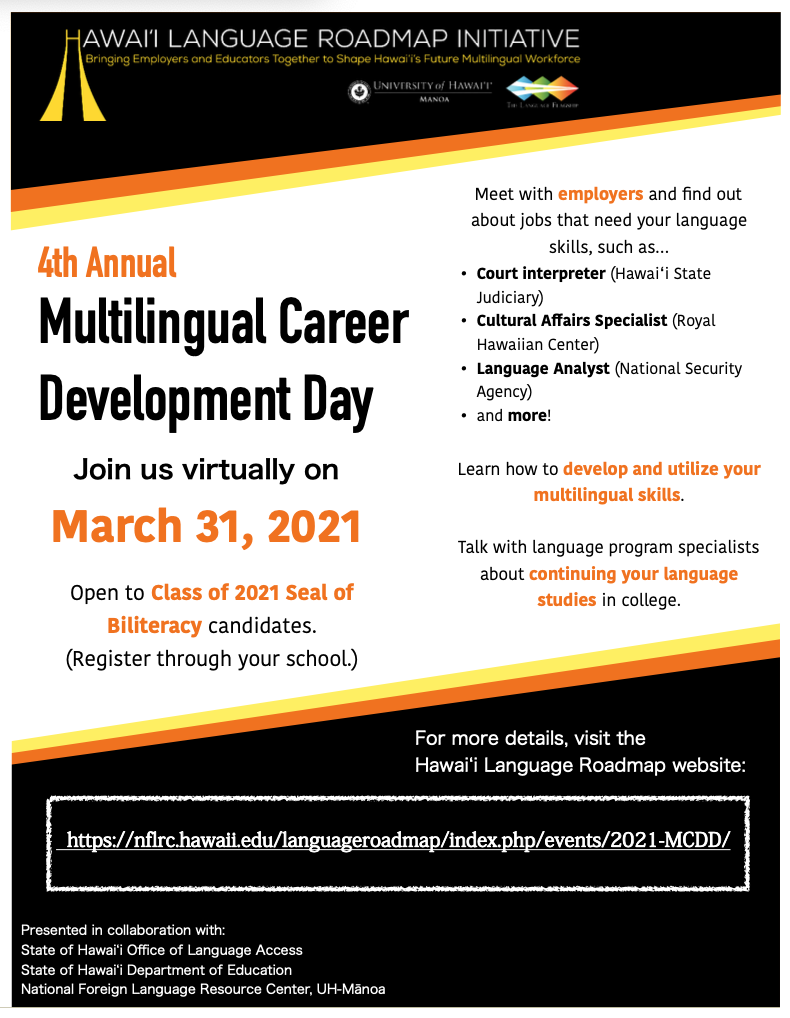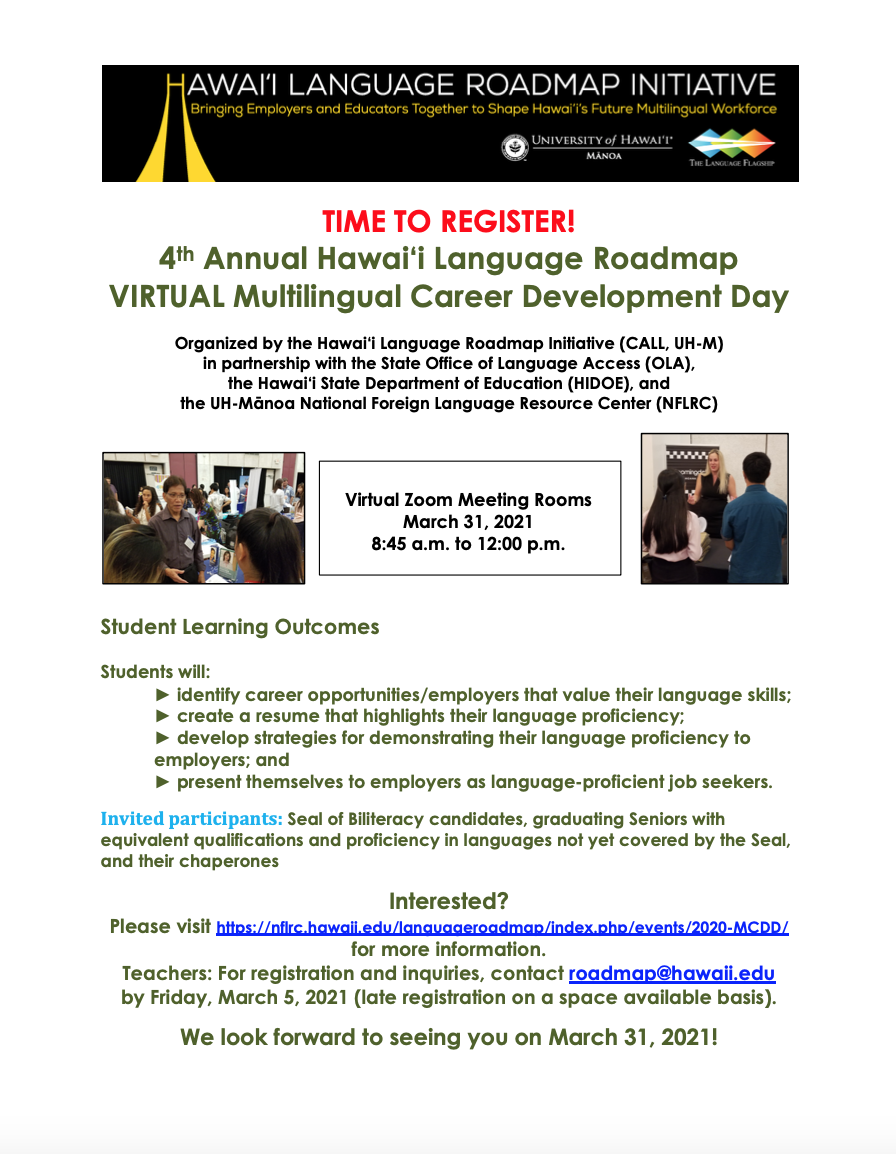 Mahalo nui for your participation and for your support of our Class of 2021 Seal of Biliteracy candidates!