Tag Clouds: New technology for community learning
Background: Using word association tasks to evoke cultural differences
One of the most common strategies used in online language cafés to help two sides bring to light subtle similarities and differences in their points of view is the word association task. In the classic, cross-cultural form of this task, pioneered by Gilberte Furstenberg and associates in the Cultura project at the Massachusetts Institute of Technology, students in two countries respond separately to a word prompt given in their first language. The word prompt given to each group is a dictionary translation of the word given to the other group.
For example, students in a US-China exchange might give responses to the words "success" and "成功" (chenggong, success) respectively; students in a US-Morocco exchange might give responses to the words "traditional" and "تـقـلـيـدي " (taqlidi, traditional). Almost invariably, intriguing patterned differences will emerge in the associated words produced by the two sides in the exchange, reflecting cultural associations that are part and parcel of the semantics of the stimulus words as embedded in their original cultural matrix.
Old technology:Displaying word association results
To access these cultural differences, at a minimum, the two parties need to see separate lists of the word associations generated by both sides. Scanning over the lists, participants can observe similarities and differences between the lists, which they then discuss online. In the Cultura project at MIT, the responses by the two sides are displayed in this fashion — as lists. Here, for example, is a sample display of data from an exchange between a French class at MIT and a class of students in Paris studying English. While US students gave word associations for the word "suburbs," students in France gave associations for the corresponding French word "banlieue."
Suburbs
Banlieue

boring, commonplace, isolated
boring, indistinguishable
calm, quit
cars, grandparents, sunny
children, houses
Chino Hills, sparse
fancy, rich
home, peaceful, neat
houses, trees, kids
Houston, San Diego, Residential
lawn mower, cul-de-sac, dog, sidewalk, neighbors, next-door
lawns, driveways
majority, populated
middle class, clean
neighbourhood, grass, far
outside the city, not as bussy, no buildings
quiet
quiet, house, living
quiet, pieceful, distance
sidewalk, grass
sprawling, American ideal
tranquility, space
trees, city, people
trees, neighbors, safety
trips

bof, éloignée, peu vivante
calme, isolée
défavorisée
défavorisée
désillusion, misère sociale, égalité, laisser-aller
danger
danger, difficile
dangereuse, verdure
difficile, dortoir
dortoir, laideur, insécurité
Dualité, Monotonie
Evry
Evry
foyer, comfortable
I am, NTM
insécurité, ghettos
loubard, violence, préjugé
marginal, peu attractif
Nairobi…
périphérie
prison
transport, insécurité
villes, ghettos
violence, ghettos,
violence, intégration
vivant; diversité
Careful examination of the lists shows that English speakers in the US and French speakers in France hold strongly contrasting associations with the concept of suburbs. The observer does need to do a certain amount of work to become aware of these differences, however, when the data is displayed in the above format.
New technology: Making differences visible
The basic model of displaying results in a list can definitely be improved upon. For example, the most popular (commonly given) responses can appear at the top of the list. If those popular responses can be made visually more salient, the task of comparison and contrast becomes even easier. In online cafes in the University of Hawaii's BRIX system, the technology staff is experimenting with technology that takes comparison of word association results one step further by concatenating and visually weighting results, resulting in a display mode known as a "tag cloud." The same data shown above in two lists, if shown in a tag cloud, looks like this: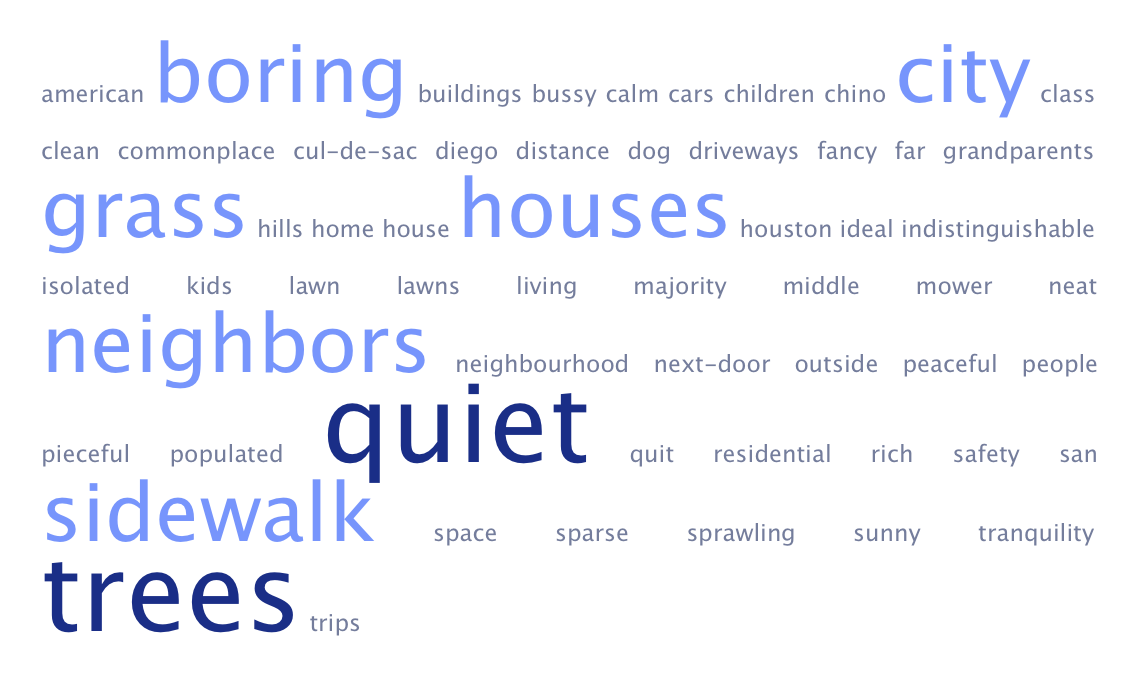 When this mode of display is used, a single glance suffices to reveal the most salient differences between the two sides, and discussion can get off to a rolling start. However, although differences in the data are much more salient, the data itself remains static, a passive object of observation and discussion.
What if students could do more with the data than talk about it?
Newer technology: Customizable tag clouds
Tag clouds can propel participants in a café on their first step toward articulating differences between two sets of word associations. But what if, before resorting to verbal discussion of what they see, participants could manipulate the data visually to show relationships they see among words in the cloud? At the University of Hawai'i National Foreign Language Resource Center, that is the next step in experimentation with tag cloud technology for word association tasks in online exchanges. A modification to the tag cloud technology shown above will enable students to manipulate the position of words in the tag cloud, and then save the result to show others.
The manipulability of the tag cloud affords the instructor in charge of the exchange a wide array of possible tasks for participants. Tasks can be closed-ended ("group words that are similar") or open-ended ("create a collage with the words that represents your personal response to the word association results"). They can be form-focused ("group words that are the same part of speech") or meaning-focused ("arrange words along a continuum from positive to negative").
Having performed each task, the participant can save the new configuration of words. This new saved object can then become an object of discussion. Alternatively, a single tag cloud can be shaped by a group working together, and "snapshots" of it can be taken during the process. Many possibilities for using tag clouds suggest themselves; best practices for using tag clouds await investigation.
To get an idea of how this technology works, let us imagine that students in the original Cultura exchange shown above had access to a customizable tag cloud. Given each of the tasks mentioned above, here are some samples of how participants might have manipulated the cloud:
Task: Group words that are similar.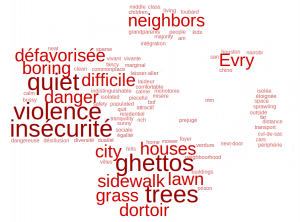 ---
Task: Create a collage with the words that represents your personal response to the word association results.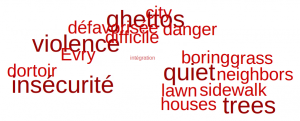 ---
Task: Group words that are the same part of speech.


---
Task: Arrange words along a continuum from positive to negative.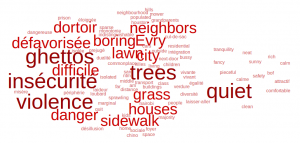 Stephen Tschudi, Dec. 2010