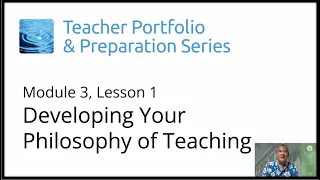 What Is a Philosophy of Teaching Statement and Why Is It Important?
Philosophy of teaching statements are concise statements of what you believe about the teaching and learning of languages or literature, and possibly also about education in general. Most sources recommend that you keep your teaching philosophy statement between one and two pages in length, covering what you believe, why, and brief examples of how you implement it in the classroom.
While a statement of your philosophy of teaching is an important item to include in your teacher portfolio, it also serves a much more important role. It guides and informs you as you prepare other portfolio items, it helps you prepare for a job interview, and it helps you to ensure that you are consistent in the way you answer job interview questions.
TiPPS HANDOUTS ON PHILOSOPHY OF TEACHING STATEMENTS
"Philosophy​​ of ​​Teaching​​ Statements ​​-​​ 'Let ​​the ​​Brainstorming ​​Begin!'" handout (2023 version)
GUIDELINES FOR WRITING A STATEMENT OF TEACHING PHILOSOHY
Teaching Statements, Vanderbilt University Center for Teaching: A useful website that provides guidelines and strategies to help you write your philosophy of teaching statement.
Montell, G. (2003). How to Write a Statement of Teaching Philosophy.: A handy article from the Chronicle of Higher Education.
Office of Faculty and TA Development, The Ohio State University. Writing a philosophy of teaching statement.: This site takes a comprehensive look at a philosophy of teaching, including definitions, the purpose of developing a philosophy statement, common major components, different ways of developing a statement, and benefits of having put one together. It also gives a number of sample statements. The authors try to provide multiple perspectives on the topic, as well.
Chism, Nancy Van Note (1998). Developing a philosophy of teaching statement.: This article on developing a teaching philosophy statement is often cited on other sites. A concise guide to the task of writing your statement.
Center for Teaching Excellence in Learning & Teaching, Iowa State University. Writing a teaching philosophy statement.
The Dreaded Teaching Statement: Eight Pitfalls, by Karen Kelskey: Note that this is written for people with PhDs who are applying for professorial positions, so some of the tips may not apply to those applying to other types of positions.
Statement of Teaching Philosophy, University of Toronto Centre for Teaching Support and Innovation.
4 Steps to a Memorable Teaching Philosophy, by James M. Lang, The Chronicle for Higher Education (August 29, 2010): Note that you may need an account with the Chronicle to be able to read this article in its entirety.
BOOKS & ARTICLES THAT DISCUSS PHILOSOPHY OF TEACHING
Vick, J. M., Furlong, J. S., & Lurie, R. (2016). The academic job search handbook. Philadelphia, PA: University of Pennsylvania Press.
Our favorite handbook on all things related to academic job searches and preparing a portfolio! [This excellent book is available online for University of Hawaii at Mānoa faculty, staff, and students.]
Career Services Center. The Academic Job Search Survival Handbook. University of California
SAMPLE PHILOSOPHY OF TEACHING STATEMENTS
Here are some sample statements of teaching philosophy (shared here with the permission of the authors):
As you look at some of these statements, here are a few things to look for:
Do you get a clear idea about this person as a teacher?
Do you get a clear idea about what the teacher believes about learning? About teaching?
Do aspects of teaching that are not included feel like they were omitted as a result of informed choices or as a result of a careless oversight that you feel should be rectified?
Are there examples of how the teachers implement their philosophy?
PHILOSOPHY OF RESEARCH STATEMENTS
Writing Your Research Statement, Cornell University
Writing a Research Statement, Purdue Online Writing Lab (OWL)
Application Materials for the Faculty Job Search, Career Services, University of Pennsylvania: Also includes strategies for writing philosophy of teaching statements and diversity statements.
OTHER PHILOSOPHY STATEMENTS
For more information about other philosophy statements (such as a philosophy of educational administration, or a philosophy of student advising), see the following resources:
Educational Leadership Philosophy (2020, Jan. 23). Newsroom Blog, LSU Online & Continuing Education. Retrieved July 6, 2021 from https://online.lsu.edu/newsroom/articles/educational-leadership-philosophy/.
George (2014, March 21). Personal advising philosophy examples. Academic advising resources, NACADA clearinghouse. https://nacada.ksu.edu/Resources/Clearinghouse/View-Articles/Personal-advising-philosophy-examples.aspx