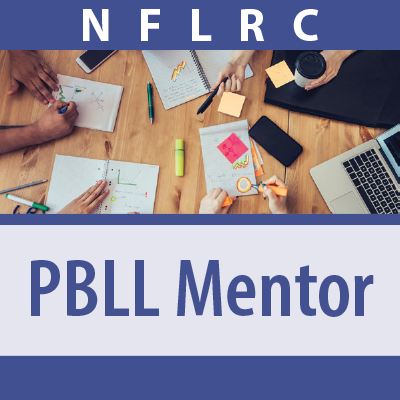 PBLL Mentor Badge: Badge Criteria
The NFLRC's Mentoring Program for Project-Based Language Learning confers a badge (electronic credential) on mentors who successfully complete one semester of mentoring with a mentee and provide associated evidence. The PBLL Mentor badge is designed for experienced Project-Based Language Learning educators who provide mentorship to language teachers who participate in the NFLRC Mentoring Program for Project-Based Language Learning. 
The PBLL Mentor badge recognizes the guidance an experienced language educator provides to a less-experienced language teacher learning the relevant content and completing the required tasks of the the NFLRC Mentoring Program for Project-Based Language Learning with the aim of deepening their knowledge and sharpening their praxis in the development and delivery of PBLL experiences.
To receive the PBLL Mentor badge, mentors are required to fulfill the following action program:
In a dedicated initial meeting, determine a meeting schedule with the mentee to include a minimum of three working meetings to review the work that the mentee submits and to answer his or her questions. These meetings must be synchronous.
Explain to the mentee that, in addition to discussing their PBLL praxis with the mentor, the mentee is required to complete a minimum of three lessons from the NFLRC's Mentoring for PBLL TED-Ed lesson series, to complete a 3-2-1 reflection for each lesson, and to share the mentee's 3-2-1 reflection document with the mentor and with the NFLRC by making the document readable by "anyone with the link."
If possible, embed the mentee in a project that the mentor is teaching or become embedded in a project that the mentee is developing. Note: This recommendation is not required.
Share materials and resources with the mentee and/or show the mentee where to locate open educational resources that provide practical examples of the content that the mentee is learning about in the lessons.
Conduct a final meeting AFTER the mentee completes an evaluation of the program. This meeting must be synchronous and the mentee must affirm during the meeting that they completed their 3-2-1 reflections, made the document readable, and shared the URL with you. The mentee must also affirm that they have completed the program evaluation. If the mentee has NOT completed the evaluation at this point, the meeting must be rescheduled.
Fill out the mentor teacher program evaluation and submit to the NFLRC.
Fill out the mentorship completion form and submit it to the NFLRC at the conclusion of the program.
There is no limit to the number of mentor badges one person may earn, and the badges do not expire.