This resource is an exported Moodle course, designed for installation in a Moodle course. The Envisioning Project-Based Language Learning MOOC aims to offer course participants basic information about project-based language learning (PBLL), an approach to designing learning experiences for learning world languages based on established principles and practices of high-quality project-based learning as described by PBL Works (formerly Buck Institute for Education). The downloadable file, <1MB in size, has the file extension .mbz, and can be imported into a Moodle course space.
NOTE: The file we provide contains the entire Envisioning PBLL MOOC course. Individuals and institutions interested in offering their own version of the Envisioning PBLL MOOC may download and install this file in a Moodle course of their own. This page is not for enrolling in the NFLRC MOOC course offered by the NFLRC. If you are interested in being a student in the MOOC offered by the NFLRC, please visit this page instead.
Instructor/administrator use
Instructors or administrators intending to use this course should, at a minimum, be familiar with the body of knowledge covered in the course — the hallmarks of high-quality project-based learning (HQPBL), PBL essential design elements, how PBL relates to world language education, and the difference between 'dessert projects' and PBL, among others. Instructors or administrators who are not familiar with PBL and PBLL may use the MOOC as an educational resource for themselves, but we counsel against the use of these teaching materials by those unfamiliar with the course material to teach others.
Course content
Course content in the Envisioning Project-Based Language Learning MOOC comprises lessons (called "Topics") that utilize published material, primarily in video format, followed by sets of comprehension questions. Each question set is followed by a discussion prompt to round out the topic.
The course learning outcomes are:identify essential features of high quality project-based learning (PBL) project designs
identify key concerns of project-based language learning (PBLL) compared to PBL in other disciplines
describe sources for project ideas
identify the three dimensions of "authenticity" in projects
craft an effective "driving question" (challenging question or problem)
generate multiple project ideas and test them using the Product Square, aligning product, audience, partners, and purpose
anticipate "Need-To-Knows" for a project's content, skills, and management.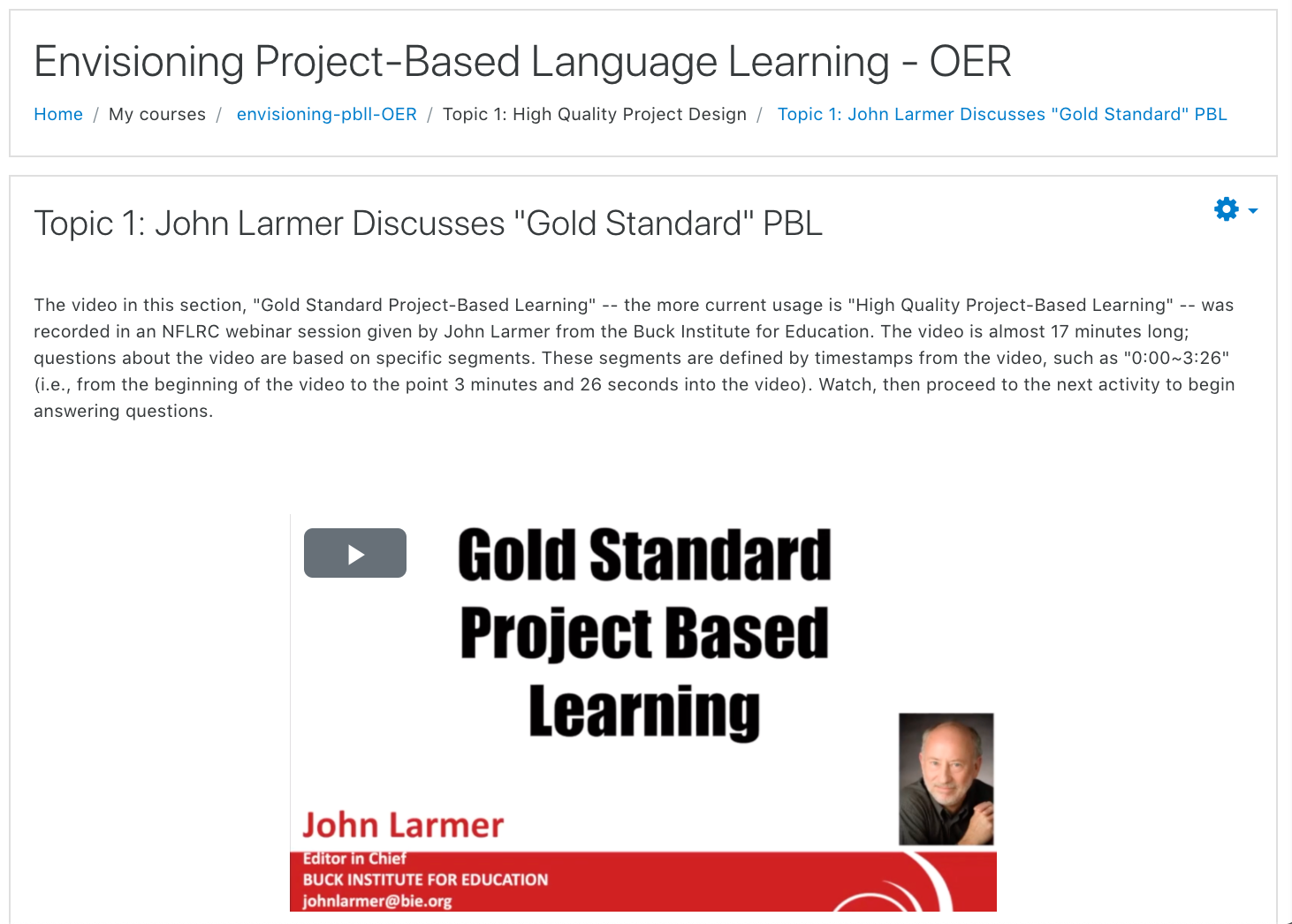 The course is organized into five topics:
Topic 1: High Quality Project Design
Topic 2: From PBL to PBLL
Topic 3: Generating Project Ideas and Designing Engaging Projects
Topic 4: Evaluating Your Project Idea & Engaging Students in Project Development: The Product Square
Topic 5: Need-to-Knows: A Key Guide in Project Development
Beginning in Topic 3, an assignment is added following the discussion. The assignments in Topics 3, 4, and 5 are designed to support practitioners in generating, and then in critiquing and revising, project ideas for PBLL. The digitized documents that learners will use to complete and hand in these assignments are already posted in the corresponding assignment.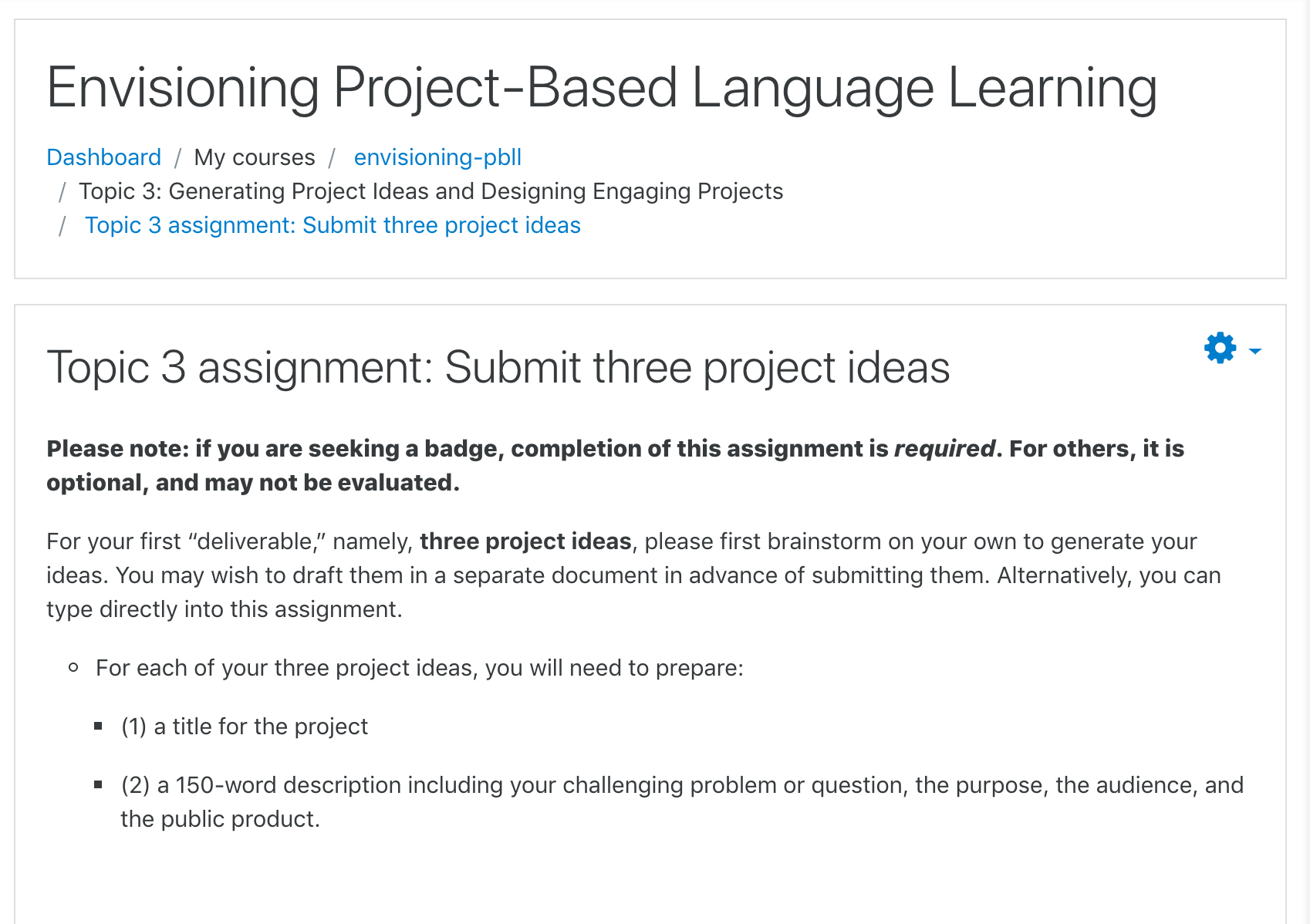 The discussions and assignments mentioned above provide a means for student-student and student-instructor interaction. If you wish to offer only the lesson content — not including the discussion or assignments — you may wish to delete those elements of the course.
Creative Commons licensing
The content in this exported Moodle course is licensed to you by the author, the National Foreign Language Resource Center at the University of Hawai'i, under a Creative Commons BY-NC-SA 4.0 license. This means that you are free to reuse this material as-is, or to edit it to create a derivative product, as long as (1) you include accurate and appropriate attributions on pages of this or any derivative product; (2) you use this product or offer any derivative product only for noncommercial purposes, i.e., you are not permitted to profit from this product; and (3) you grant the same license and usage rights to any users of any product derived from this one.
Installation instructions
In order to use this material, you will:
Ask your institution's Moodle administrator to create a course space for the MOOC;
Use Moodle's Import function in the course space to draw this content into your course (see gear icon on main course page);
Edit course content and course settings to suit your needs. As an example, if you do not anticipate your participants being able to take part in online discussions, you may wish to delete or hide the discussion forums in the course; if you decide to use the discussion prompts, you will need to launch the discussion by clicking on "add a new discussion topic" and making a first posting to invite participants to respond. It is a best practice to encourage all participants to respond within the same thread.
Enroll learners and run the MOOC.
Survey & download
To download your copy of the Envisioning Project-Based Language Learning MOOC for Moodle course installation, please complete the following brief survey. After you finish, you will be provided with the link for download.